How to Start a Food Truck Business Part 1: Cost Breakdown
A food truck is an enticing option for first-time restauranteurs. With lower start-up costs, reduced overheads, and the flexibility to explore various locations, a food truck can be a great stepping stone before committing to a brick and mortar restaurant.
In this three-part series, we'll explore the ins and outs of setting up a food truck, starting with budgeting and expenses. From initial start-up costs to ongoing operating expenses, here's a full financial breakdown of running a food truck business.
Startup Costs
Starting a food truck requires some significant upfront costs. The expenses can vary, but here are the most common startup costs:
Food Truck Purchase or Lease
The cost of buying a food truck can vary greatly depending on the size, condition, customization, and whether you buy new or used. Purchasing a new truck can range from $50,000 to $200,000+ USD. Used trucks can be more affordable, with prices starting from around $20,000 USD, but remember to consider any necessary repairs or refurbishments. Leasing usually involves lower upfront costs but higher monthly payments.
Dig Deeper: Find out where to purchase your food truck in part 3.
Truck Customization & Equipment
Kitting out your food truck with the necessary cooking equipment, refrigeration, storage, and serving areas is a significant expense. Costs can vary depending on your menu requirements, but budgeting between $20,000 and $50,000 USD for equipment and customization is a common range.
Pro Tip: You can find affordable self-serve kiosks at Craver.

Licenses & Permits
Business licenses, health department permits, and parking permits will involve application fees and processing costs. The expenses can vary depending on your location, but budgeting between $500 and $3,000 USD is a good place to start.
Dig Deeper: Learn more about the necessary permits & licences in part 2.
Insurance
Protecting your food truck and business with insurance coverage is essential. Liability insurance, vehicle insurance, and workers' compensation insurance (if applicable) are all options worth considering. Costs can vary based on location, coverage limits, and the type of policy.
Initial Inventory & Ingredients
Stocking up on the initial inventory of food ingredients, beverages, and supplies is necessary before launching your food truck. The costs will depend on your menu, but budgeting between $1,000 and $5,000 USD for your initial inventory is a reasonable estimate.
Marketing & Branding
Developing a brand identity, designing a logo, building a website, and creating marketing materials will all cost you money. Depending on your approach, budgeting between $1,000 and $5,000 USD for initial marketing and branding expenses is a general guideline.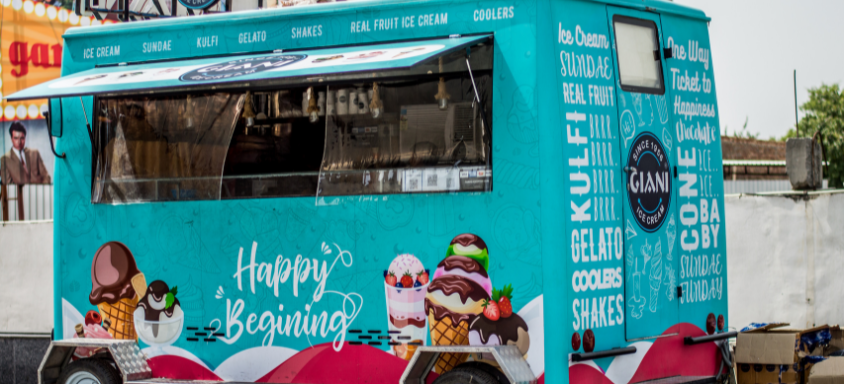 Legal & Professional Services
It's advised to hire an attorney or accountant. Costs for professional services can vary depending on your needs and the complexity of your business structure, but budgeting between $1,000 and $5,000 USD for legal and professional services is a rough estimate.
Dig Deeper: Find out how to decide on a legal structure for your food truck business in part 2.
Operating Expenses
Many of these will be ongoing monthly expenses that you'll need to budget for. Operating expenses can vary depending on location, size, menu complexity, and local regulations. Here are the most common operating expenses you'll need to set some money aside for:
Food Costs
The cost of ingredients and supplies needed to prepare your menu items.
Staff Wages
You'll need to budget for wages, including payroll taxes, benefits (if applicable), and any additional staff training expenses.
Fuel & Utilities
Fuel costs will be a significant expense for your food truck, as it powers your vehicle and all the equipment onboard. Utilities such as electricity and water may also be required for food preparation and cleaning.
Truck Maintenance & Repairs
Regular maintenance of your food truck including servicing the engine, repairing equipment, and fixing any damages.
Commissary/Kitchen Rental
If you don't have a dedicated space for food preparation and storage, you may need to rent a commercial kitchen or use a commissary to comply with health department regulations.
Licensing & Permit Fees
Licenses and permits often require annual renewal and fees that need to be budgeted for.
Dig Deeper: Learn more about licence and permit requirements in part 2.
Insurance
Plan for insurance costs ranging from $2,000 to $5,000 annually or more, depending on your specific needs.
Marketing & Advertising
Budget for ongoing expenses like website optimization, social media, and participating in events or festivals.
Cleaning & Sanitation Supplies
Budget for cleaning supplies, sanitizers, disposable gloves, and other items necessary to meet health department requirements.
Accounting & Legal Services
Hiring an accountant or bookkeeper to manage your financial records and a lawyer for legal advice can be beneficial in ensuring compliance and handling any legal matters that may arise.
Miscellaneous Expenses
Don't forget to account for other miscellaneous expenses such as office supplies, POS system fees, credit card processing fees, and any unforeseen or emergency expenses.
Learn about the different licences and permits you'll need, and how to decide on a legal structure for your food truck business in part 2.