Gift Cards: The Present that Keeps on Giving (to Your Bottom Line)
Gift cards are a powerful tool that can provide a range of benefits beyond simply being a convenient gift option. Here's how gift cards can boost your coffee shop's cash flow, loyalty, and referral strategies.
Why Gift Cards Are Great For Your Coffee Shop
Gift Cards Are Great for Your Cash Flow
Think of gift cards as a financing strategy for your business. Large chains like Starbucks view gift card sales as an interest-free loan, which can be used for operations and expansion. Not all gift cards are redeemed, which means that there is potential for substantial revenue from unredeemed card balances. Your coffee shop's gift card program can bring in revenue during busy periods, like the holidays, to keep cash flow positive during slower months.
Gift Cards Buy Loyalty
Once a customer purchases a gift card from your business, that money can only be spent with you. This means that there is a guaranteed return customer.
Pro Tip: If your gift card is reloadable or tied to your mobile app, it is even more likely that the customer will spend more money at your coffee shop.
Gift Cards Are a Referral Strategy
Customers buying gift cards for your coffee shop means they like your café so much, they want to share it with someone they care about. It's the ultimate compliment and it means your brand is being introduced to someone new, creating an opportunity for future business.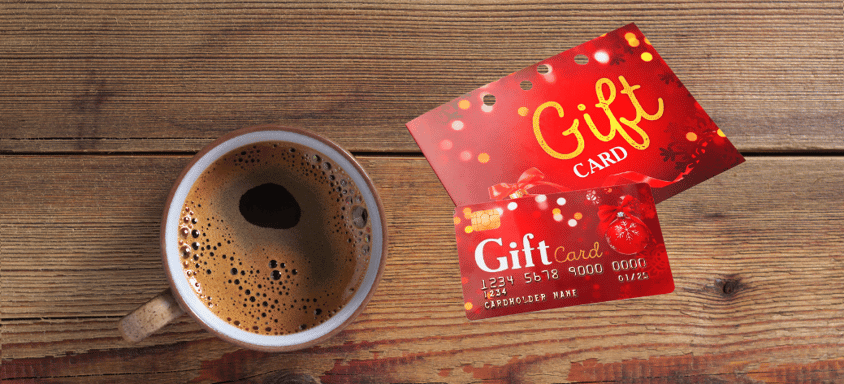 How to Set Up a Successful Gift Card Program
To create a successful gift card program, there are two key things to keep in mind:
Use a Provider That Works With All Your Systems
In most cases, your credit card processor or point of sale system provider is the best option for gift cards. This ensures that your gift cards will work across all your systems, from your online ordering site to your in-store POS system.
Make Your Gift Cards Easy to Buy and Redeem
Make sure your customers can buy gift cards anywhere they can order from you, whether that is in person, on your online ordering site, or through your mobile app. Plus, make it easy for customers to redeem their gift cards, and consider allowing partial balances to be used for transactions to avoid frustration.
A well-designed gift card program can generate revenue, increase loyalty, and serve as an unofficial referral program for your business. Use gift cards to grow your coffee shop and attract new customers.