Cash in on Viral Trends: Lessons from Popeye's Girl Dinner Menu
Firstly, What's a "Girl Dinner"?
Who has the time or energy to whip up an elaborate 10-ingredient meal after a long day's work? Enter the "Girl Dinner"—a term that took the internet by storm. The TikTok video where Olivia Maher first coined the term has since accumulated over 1.3 billion views. Whether it's a charcuterie board, a snack plate, or a random assortment of kitchen finds, the "Girl Dinner" trend has resonated with many.
How Popeye's Leveraged the Trend
Recognizing the immense traction this trend had gained, fast-food chain Popeye's seized the opportunity to curate a limited-edition "Girl Dinner" menu. Designed with a sense of irony, the menu featured a variety of the chain's side dishes, such as coleslaw, biscuits, and mashed potatoes. The idea was to let customers to create their own makeshift meals, and it was a hit.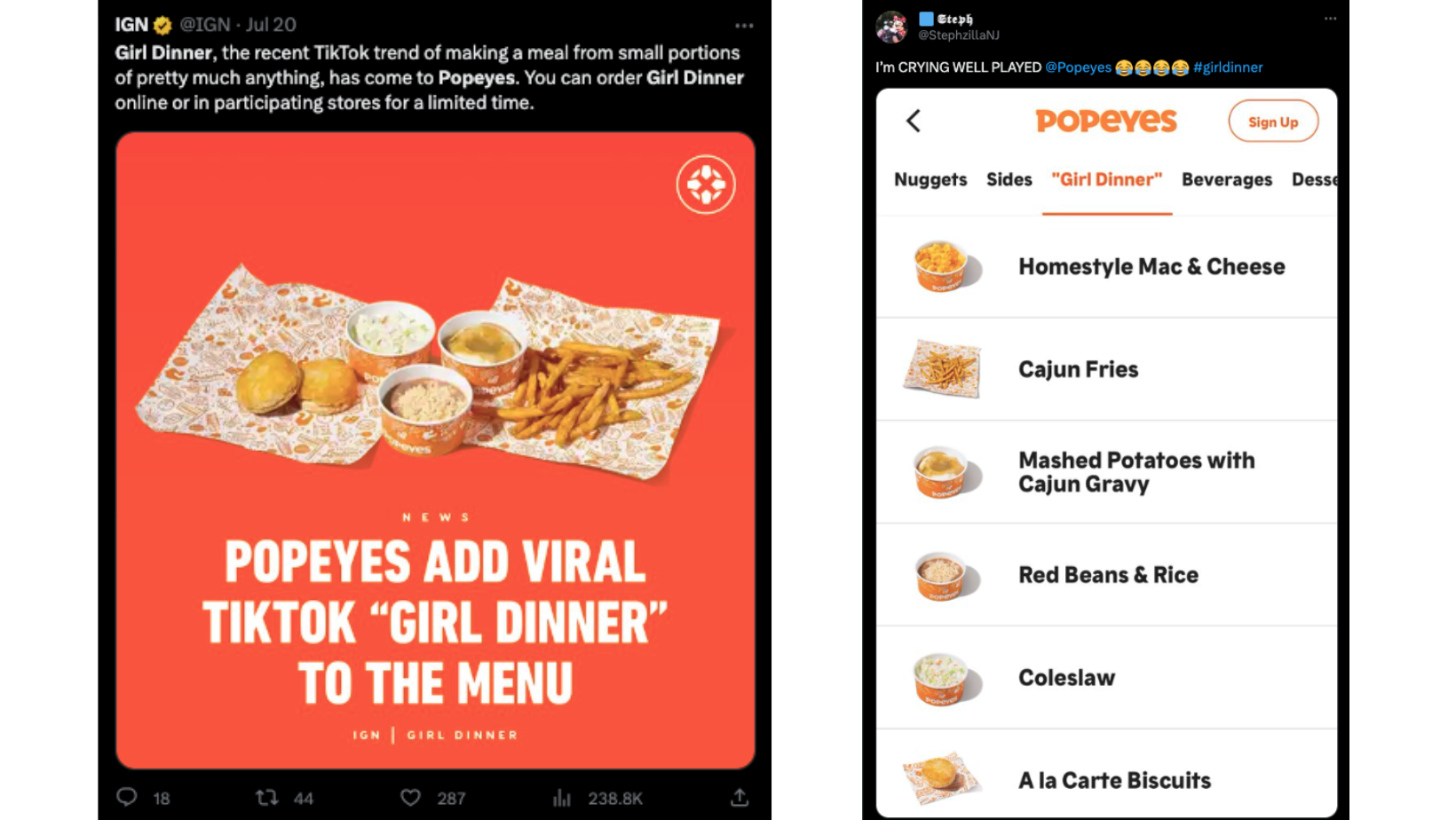 Not the First Rodeo
But this isn't the first time food chains have tapped into social media trends. In 2020, Dunkin' partnered with TikTok star Charli D'Amelio to create an iced coffee called "The Charli". The Dunkin' app hit a new record for daily active users when the promotion dropped. Elsewhere, TikTok creators Alexis Frost and Keith Lee popularized a hack for ordering fajita quesadillas at Chipotle. Following the virality of their videos, Chipotle officially added fajita quesadillas to their menu.
A Grocer Joins the Trend Train
Even outside the fast-food world, businesses like the upscale LA grocery chain Erewhon have profited from social media. Erewhon partnered with popular content creators to concoct custom smoothie recipes that have repeatedly gone viral on Instagram and TikTok.
Lessons for Local Restaurant & Coffee Shop Owners
1. Observe and Experiment
The takeaway from these examples is the significance of staying in tune with current trends. As a local business owner, you don't have the budget of Popeye's or Chipotle, but you can observe what's resonating with your target demographic. Is there a trending recipe, or drink flavour people are talking about? Could your menu offer a twist on it?
2. Use Your Audience
Engaging with your customers and followers can be just as potent as creating a limited-edition menu item. Run polls, ask for suggestions, and share behind-the-scenes content to make your audience feel involved. Who knows, your next viral menu item could come from a customer's idea. More on how to nail TikTok here.
3. Collaborate with Local Content Creators
You don't need to pair up with celebrities to make your product or menu item go viral. Look for local influencers or content creators who share an audience similar to your target demographic. A simple collaboration could result in huge exposure for your business. More on how to effectively use influencers here.
4. Act Swiftly, but Thoughtfully
Popeye's and Chipotle were quick to capitalize on trends, but their actions were well-calibrated. Before introducing anything new, do a soft test. Offer the new menu item as a "special" for a limited time and gather customer feedback.
Popeye's have shown us that tapping into these trends can be more than just a marketing gimmick. If big chains can monetize TikTok trends, local joints can certainly grab a piece of the viral action too. So, stay alert and agile—your next best-seller might just start with a scroll on your phone.